Karel Martens Inspired Typeface

---

Mar 2019
ROLE: Type Designer
PROGRAM: Illustrator & After Effects


THE BRIEF:
Research type designers and pick one that inpsires you. Create a typeface inspired by them.


THE EXECUTION:
I created a typeface to capture the spirit of designer Karel Marten's experimental print series using the letterpress to create repetitive geometric shapes and static forms. Similar to Marten's prints, I layered simple shapes to create the letter forms. I also chose a CMYK color palette to represent the color range of printing my typeface.
---










"Designer / Artist" Zine

---
ROLE: Graphic Designer, Editorial Designer, & Copywriter
PROGRAM: Illustrator & InDesign


THE BRIEF:
Based on the type designer you hvae chosen for your typeface, write an essay about them and their process. Then design a zine for your essay and your typeface.

THE EXECUTION:
I created about Karel Martens' career and philosophy. I incorporated simple graphic shapes printed on acetate to layer on top of my text. The layering present in my typeface mirrors Karel's letterpress print technique.

cover
1
2
3
4
5
6
7
8
9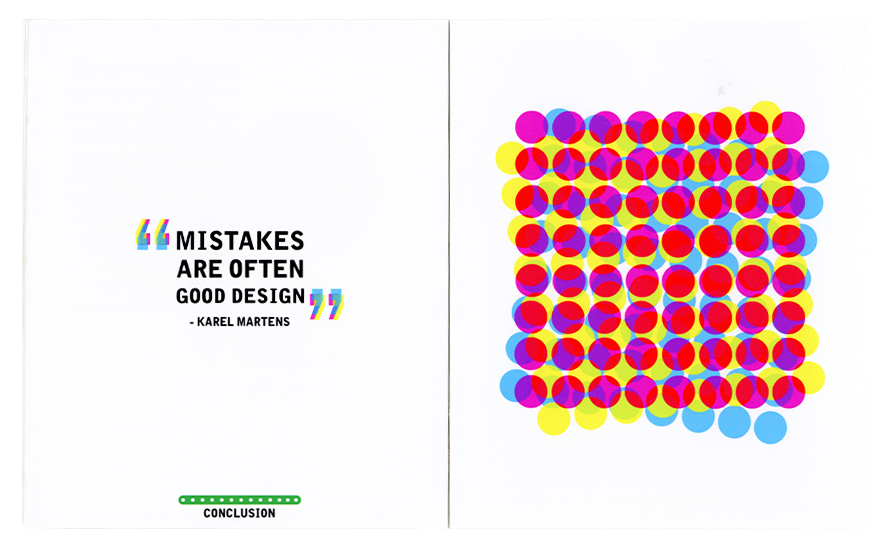 10
back






"Alphabet" Zine

---
ROLE: Editorial Designer
PROGRAM: InDesign


THE BRIEF:
No brief. Did it for shits and giggles.


THE EXECUTION:

Represents the geometric shapes that create the letters of the alphabet. Each shape is printed on acetate and each letter is separated by paper